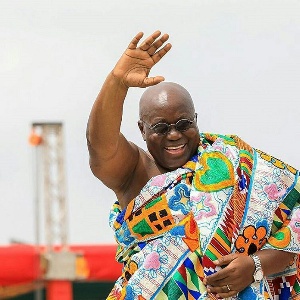 Some clearing agents who are furious with the Akufo-Addo-led government over the implementation of the paperless port system have threatened to vote against the President should he decide to seek re-election in the 2020 presidential polls.
According to one of the clearing agents, Linda Baaba Asare, they feel disappointed in the President for introducing and implementing the paperless policy without providing adequate education for the clearing agents and freight forwarders.

Ms Asare revealed in an interview with Accra 100.5FM's Chief Jerry Forson on Friday, September 8 that the government rushed with the implementation of the policy and that has affected their businesses.

The paperless system is meant to fast-track processes at the port but the freight forwarders, numbering hundreds, say the new system is counterproductive.

Before the introduction of the system, the freight forwarders had protested its implementation, saying it will disrupt their processes.
"We are not saying the government should cancel the programme, what we are saying is that they should hold on with it and educate the custom officers and all the freight forwarders before the implementation.

"Now we are having difficulties with the system, it is really giving us problems and so we are pleading with the government to hold on the programme," Ms Asare said.

She added that: "Nana Addo said he was coming to make Ghanaians comfortable, he said he was coming to create employment but we didn't know it was going to be like this and so Nana has disappointed us. In 2020 we go show Nana."