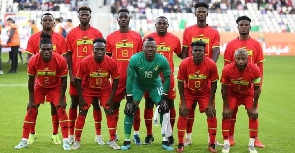 Veteran coach, Josef Emmanuel Sarpong has attributed the Black Galaxies' exit from the ongoing African Nations Championship (CHAN) to poor facilities in the country.
Ghana exited the tournament in the quarterfinals after a 2-0 defeat against Niger over the weekend.

According to the former Great Olympics coach, a conscious sports infrastructure development will transform the local league and also enable local players to match their peers in international tournaments.

He added that until those placed in responsible positions to manage football embarked on a strategic investment to improve sports facilities, Ghana would continue to perform abysmally at international tournaments.

"We need to improve the structures of our local league, make it competitive for our home-based players to see the need to improve so their confidence level could be raised for international competitions," he told Graphic Sports.
"It was an awful performance with defensive lapses. The defence was disjointed and the midfield struggled to string their passes together.

For the attack, they were simply non-existent as there was not a single shot on target in the first half when they were down by a goal.

"The players didn't play maturely when they were down. They panicked and seemed to be mentally off-balanced. In a bid to raise their game, they failed to swing passes together for the equaliser. This was because the midfield and attack didn't click so they didn't pose any threat to the Nigerien goal area," he observed.

Meanwhile, the playing body have arrived in the country. The team were awarded $400,000 for playing at the quarterfinals.