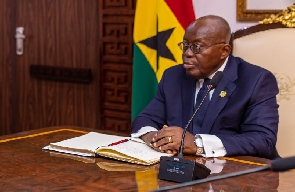 President Nana Addo Dankwa Akufo-Addo has highlighted the success of the 2022 West African Senior Secondary Certificate Examination (WASSCE) as a validation of his government's educational policies.
Speaking at the Queen Girls Senior High School event in the Western North region, the President emphasised that last year's WASSCE outcomes were the most impressive in the past eight years. He reiterated that the results underscore the effectiveness of the Free Senior High School programme and its associated initiatives.

"The 2022 WASSCE results are the best out of the last eight years," he asserted, noting: "Surely there can no longer be any controversy about the validity of the Free SHS policy and its consequential measures."

President Akufo-Addo proudly announced that 60.39% of students achieved A1-C6 grades in English, a marked improvement from 51.6% in 2016. Similarly, in Integrated Science, the 2022 results showed 62.45% success, up from 48.35% in 2016.
Notably, Mathematics saw 61.39% of students scoring A1-C6 compared to a mere 33.12% in 2016.

Moreover, Social Studies displayed significant progress, with 71.51% of students attaining A1-C6 grades, in contrast to 54.55% in 2016.

President Akufo-Addo celebrated the achievements of the 2021 student cohort, who navigated the double track system's introduction, despite initial criticisms.