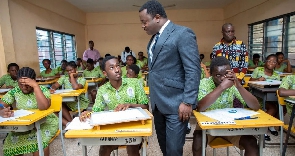 Rev. John Ntim Fordjour, the Deputy Minister for Education, has declared that there exists sufficient capacity to accommodate all 600,714 candidates taking part in this year's Basic Education Certificate Examination (BECE) across the 900+ Senior High Schools (SHS) and Technical and Vocational Education and Training (TVET) institutions.
He emphasized that the pivotal requirement for the candidates was to successfully pass the BECE, enabling them to access the benefits of the flagship senior high school program.

This announcement was made during Rev. Ntim Fordjour's interaction with BECE candidates at the St. Thomas Aquinas Senior High School in Accra.

Accompanied by Mr. Stephen Bamfo, the Director of Education for Greater Accra, the Deputy Minister assured the candidates of the government's unwavering commitment to providing robust support for their educational pursuits.

Rev. Ntim Fordjour encouraged the candidates to strive towards achieving their educational ambitions, highlighting the opportunities presented by the Free High School (FSH) and Free Technical and Vocational Education and Training (FTVET) programs.

He underscored, "Work diligently to harness the advantages of this innovative policy, which will shape your future aspirations."
The Member of Parliament for Assin South also cautioned candidates against seeking external assistance, emphasizing that each candidate faced a distinct set of questions despite sharing the same examination hall.

Following his oversight at the examination center, the Deputy Minister addressed lingering speculations about the potential cancellation of the BECE.

He unequivocally dismissed such notions, asserting, "There are no discussions or plans to terminate the BECE now or in the future; disregard these misconceptions."

Rev. Ntim Fordjour lauded the collaborative role of the West African Examination Council (WAEC) in Ghana's educational progress. He reiterated the government's commitment to supporting WAEC's mission and activities to fulfill its educational responsibilities.

Reflecting on WAEC's significant contributions over the years, Rev. Ntim Fordjour elaborated, "We occasionally provide them with resources based on their needs and ongoing initiatives."
Expressing dismay over isolated incidents of misconduct at certain examination centers nationwide, the Deputy Minister condemned such actions as regrettable.

He affirmed that stringent measures would be taken against those involved to serve as a deterrent against future malpractices.

Rev. Ntim Fordjour concluded on a positive note, expressing optimism that the recent apprehension of a few teachers exemplified the resolute steps taken to eradicate all forms of exam irregularities.

GA/SARA


Watch the latest episode of The Lowdown on GhanaWeb TV below:





Watch the latest episode of Legal Agenda on GhanaWeb TV below:




Share your news