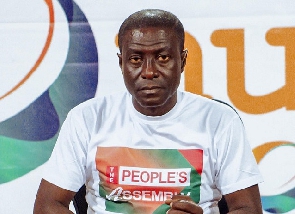 Godsbrain Captain Smart, the host of Onua FM's morning show is predicting an end to the political duopoly of the New Patriotic Party and the National Democratic Congress in 2028.
Captain Smart claims that Ghanaians will switch to another party in the 2028 elections and that will spell the end of the NPP and NDC dominance.

But before that will happen, Captain Smart believes that John Mahama will lead the NDC to victory in the 2024 elections and become the last leader from the two parties to govern the country.

Captain Smart is quoted by Onua FM to have tipped John Dramani Mahama to win the 2024 elections.

He drew an analogy between the second coming of John Mahama and the biblical Judas, stating that John Mahama could be the one to save the country from the economic mess it has been plunged into by the Nana Addo Dankwa Akufo-Addo administration.

He warned that the country could be plunged into further trouble if the New Patriotic Party retains power.
"After John Mahama in 2024 that's the end for NPP and NDC. Mahama will win the 2024 elections and there is nothing you can do about it. If we go for the NPP again we'll suffer more than what we are going through now.

"Mahama will carry every mess created by Nana Addo just us a second Judas helped Jesus after he was betrayed by a Judas. If John Mahama allows himself, he will solve all the mess Nana Addo has created. But if he doesn't, he will do worse than Nana Addo. But whether you like it or not, Mahama will come," he said.

John Mahama, Kwabena Duffuor and other aspirants interested in the flagberearship slot of the NDC have been set a filing fee of GH₵500,0000.

The party announced on Wednesday, January 18, 2023 that the primaries will be held on May 13, 2023.

KPE/SARA