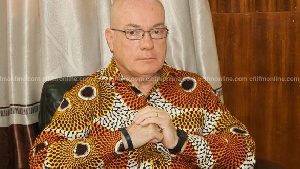 The US Ambassador to Ghana , Robert P. Jackson while speaking on Joy News on Thursday March 22 2018 has indicated that, the issue of the establishment of the US military base in the country is not for the purpose of invasion considering the number of military men to be on the country's soil at a particular time.
He added that, Ghana benefiting from the $20 million for this year only is enough for the country considering the commitment of the US to Ghana in terms of equipment, skills and training.

The Ambassador stated that, the Ghana Armed Forces will have the full cooperation of the United States in the agreement, which will allow the country's military to benefit from three different scheduled exercises to take place this year.

He as well assured that, the US will cooperate with the those who hold political authorities in the country while delivering on the beneficial exercises which include training on counter-terrorism, response to disaster exercises and security-related programmes.

He said, while stating that the agreement is not an invasion "For each exercise, we are looking at up to 200 Americans, and to my knowledge, in recent years, we have never brought in more than that; and for the time being, at the level of operations, we don't contemplate bringing more than that in. So, this is not an invasion, I want to be clear about that".
The agreement that will allow the US to establish its military base on the soil of Ghana has been countered by the Minority in the Parliament of Ghana.

The Minority has called on the government and the Defence Minister Dominic Nitiwul to cancel the agreement saying that the country should not be mortgaged for $20 million.

The Member of Parliament for the Builsa South, Clement Apaak has stated that, "They should come clean. We will not sit by and let them mortgage our future, our security and our role as a leading light in the nonaligned movement".

Adding that, Ghanaians can rely on the National Democratic Congress (NDC), which is the major opposition party in the Parliament in terms of transparency with regards to the issue.