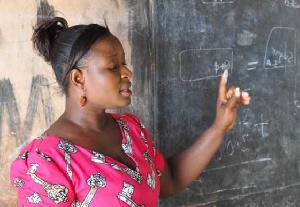 A total of 22,279 teachers have been promoted into various grades within the Ghana Education Service (GES).
The teachers, according to the GES, were successful in their interviews.

Some 11,521 other teachers who were also seeking promotion within the Service, were denied because they failed a promotional interview.

Of the 2,344 teachers who applied for promotion to the rank of Deputy Director, only 1,340 teachers were successful.

For the Assistant Director 1 grade, 7,327 teachers applied but only 4,601 got promoted to that rank while 14, 945 teachers out of a total of 21,884 who applied for the position of Assistant Director II were successful.
A total of 1,393 teachers who were successful have been promoted to the position of Principal Superintendent. The GES said 2,025 teachers applied for for promotion to that grade.

A statement issued by the GES Tuesday directed all teachers who applied for and participated in the promotion interview to access the results on the GES website at a cost of 5 cedis each.

It said formal promotional letters will in "due course" be released but did not say when the new promotions will take effect.

Meanwhile, the GES said results of promotional interviews for non-teaching staff will also be released soon.