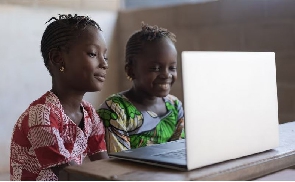 About 3000 students from Ghana are expected to benefit from the UNESCO-Huawei tech-enabled open school systems project.
The project aims to maintain the consistency and calibre of learning in both everyday circumstances and emergency scenarios. It entails creating, evaluating, putting into place, and expanding crisis-resilient systems that can link classroom and at-home instruction.

1,000 teachers from Ghana are also expected to benefit from the digital inclusion and sustainability initiative

Dubbed TECH4ALL, the project by UNESCO and Huawei is a collaboration between the ministries of education and its partners in Ghana, Egypt, and Ethiopia.

The initiative is aligned with the UN Sustainable Development Goals and focuses on helping to address major global challenges. Thus TECH4ALL centres on four key areas; education, environmental protection, healthcare, and rural development.

It commenced in 2020 and is expected to be completed in July 2024.

Rotating Chairman for Huawei Technologies, Ken Hu, speaking at the Huawei Connect 2023, noted that the TECH4ALL seeks to promote inclusion and equipping marginalized people with the skills and resources they need to make full use of digital technology in their everyday lives.
"In particular, we provide digital skills training for underserved groups for people with disabilities, women and remote communities while we continuously enhance the accessibility of our products and services."

He added, "to date, we have provided training for over 220,000 people around the globe and more that 5.2 million people make use of the accessibility features on Huawei deices every month."

On his part, Senior Advisor, ICT and Digital Transformation, African Union Commission Office of the Deputy Chairperson, Diaby Moustapha Mamy (Ing.), believes digital inclusion is the key to unlocking digital potential in Africa.

He asserted in a statement that the African continent is realizing the need to harness the potential that exists in all sectors of life.

Moustapha Mamy noted, "One of the seven aspirations of Africa's Agenda 2063 is to build a prosperous Africa based on inclusive growth and sustainable development. The continent's digital transformation can achieve that goal based on six priority sectors set by the African Union; industry, trade, financial services, government, education, health, and agriculture. The strategy built on existing frameworks and initiatives and is designed to create an empowered and skilled population".

The ethos of TECH4ALL is driven by Huawei's mission and vision: to bring digital to every person, home, and organization for a fully connected, intelligent world.
NOQ

Ghana's leading digital news platform, GhanaWeb, in conjunction with the Korle-Bu Teaching Hospital, is embarking on an aggressive campaign which is geared towards ensuring that parliament passes comprehensive legislation to guide organ harvesting, organ donation, and organ transplantation in the country.

Watch the latest edition of BizTech below:



Click here to start the nomination process for the 2023 GhanaWeb Excellence Awards