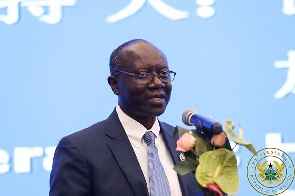 Finance Minister, Ken Ofori-Atta, has assured that Ghana is in a position to meet the requirements for fiscal consolidation under the just approved International Monetary Fund programme for the country.
Addressing participants at the Capital Market Day's event organized by the MTN Group in South Africa, Ken Ofori-Atta said despite the wave of conditionalities under the programme, government remains confident in meeting all targets set by the IMF.

"When we came into government, we inherited an IMF program which was supposed to take almost three to four years and within two years we exited that. So, our capacity to do that is very clear to us," Ken Ofori-Atta said.

He continued, "In terms of the confidence to be able to follow through with the IMF, the post-COVID programme for economic growth is our programme in which the Fund's structural bench mark were around that. We believe that we can do it because we have done it before. And the numbers in 2017 to 2020 suggest the type of trajectory we were on until these incidents occurred. We are confident about what we have to do within these 18 months."

He further noted that government has made considerable progress with workers on the management of their pension funds.

Meanwhile, the recently issued IMF staff report on Ghana noted the design of tax policy measures continue to suffer widespread tax expenditures particularly in Value Added Tax and under exploitation of taxes such as property tax and excise tax.

The IMF further outlined certain weaknesses in revenue administration which continue to impact on recoveries and limited revenue compliance.
Watch the latest edition of BizTech and Biz Headlines below:







MA/FNOQ