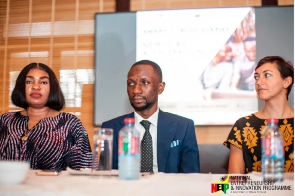 The National Entrepreneurship and Innovation Programme (NEIP) wants to build the country's first unicorn – a start-up with a value of over US$1 billion.
As part of processes toward realising this, NEIP has earmarked US$4 million under its Hubs Acceleration Grant Programme (HAGP) to support 30 entrepreneurship and innovation firms across the country.

The hubs will be supported to run programmes that benefit firms and start-ups, as NEIP embarks on a journey to produce the country's first unicorn, its Chief Executive Officer (CEO), Kofi Ofosu Nkansah, said.

A sub-component of NEIP's programmes under the Ghana Economic Transformation Project (GETP), the HAGP is designed to support development of the private enterprises ecosystem by building capacities of entrepreneurship and innovation hubs to bring the quality of their services up to international standards.

National Entrepreneurship Innovation Programme

Speaking at the grant-signing ceremony in Accra, NEIP's Chief Executive Officer (CEO), Kofi Ofosu Nkansah, said supporting entrepreneurship and small-, medium-enterprises (SMEs) growth is critical to the country's economic recovery and job creation.
The term 'Unicorn' refers to a privately-held start-up company with a value of over US$1billion. It is commonly used in the venture capital industry.

Selection of beneficiaries

After receiving nearly 100 applications when the call for applications opened, NEIP and its partners, including the World Bank and Deloitte Consultants, evaluated and whittled the number down to 40.

This was followed by a comprehensive mapping and classification exercise to further trim the number of applicants to 30, Mr. Nkansah stated.

"We undertook a due diligence visit to all the 40 shortlisted hubs. There, we took stock of their capacities, programmes offered and challenges faced. This was aside from confirming information and picking up more data to aid in the due diligence effort," he said, adding that the mapping and classification exercise's purpose was to identify and classify entrepreneurship hubs in Ghana, aiming to enhance quality and service offerings to international standards.
"And the final report provided NEIP a comprehensive overview of the hub landscape, including locations and key characteristics, while assessing level of collaboration, sustainability of operations, service offerings, impact and challenges," he noted.

He added: "The objectives include identifying hubs, classifying them based on specific criteria, analysing their distribution, and offering recommendations for improvement".

National Entrepreneurship Innovation Programme

Other criteria considered during the selection exercise required hubs to be legally registered in the country with 100 percent indigenous ownership; operated as an enterprise support organisation in Ghana for at least three years; and have core expertise in entrepreneurship support and business acceleration, among others.

Targeted sectors
According to Mr. Nkansah, the HAGP will focus on hubs operating in the following sectors: agriculture, technology and innovation, light manufacturing and processing, waste and green businesses, and technical and vocational-oriented hubs.

Encouraging the active participation of women, youth and persons with disability in the grant programme, he said disbursement of funds will follow immediately after the contract signing.

"That will not be the end of the process; a period of monitoring and evaluation will commence, wherein we will track key milestones and ensure compliance and the use of funds for their intended purpose," he stated.

National Entrepreneurship Innovation Programme

As part of the monitoring and evaluation, NEIP will therefore request quarterly and annual reports – all in a bid to grow the ecosystem to world standards on the way to producing Ghana's first unicorns, Mr. Nkansah said.
Phase two of the Hubs Acceleration Grant Programme will cover the set-up and operationalisation of new hubs, including revitalising hubs that are not more than two years old.