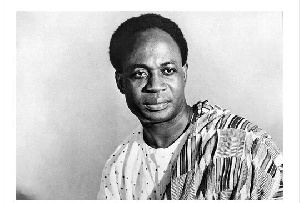 The Convention People's Party (CPP) has refuted suggestions by the governing New Patriotic Party (NPP) that the country has more than one founder, insisting that Dr. Kwame Nkrumah is the only founder of Ghana.
This was in response to moves by President Nana Akufo-Addo, who has proposed legislation to Parliament to designate 4th August as Founders Day, and 21st September as Kwame Nkrumah Memorial Day.

If passed by Parliament, both days will be observed as public holidays, a statement signed by the Director of Communications at the presidency, Mr Eugene Arhin said.

However, Communications Director of the CPP, Abdul Rauf Kaderi said: "To President Nana Addo-Addo Dankwa Akufo-Addo, this is not about the history of Ghana but his ancestry", adding, "the arguments about 4th August is lame; it is completely flawed and has not historical basis".

He explained that: "Their [Aborigines' Rights Protection Society] objective was not to win independence for Ghana. They just wanted certain social and constitutional changes in their land of birth."
According to him, "The United Gold Coast Convention (UGCC) was formed with the motto of self-governance within the shortest possible time and you recall that the self-governance within the shortest possible time was the same understanding in South Africa and they got their independence in 1993, so if we had continued with self-governance within the shortest possible time, probably our independence would have been delayed significantly."

He maintains that: "If you study history carefully you will realize that there cannot be any founders in this country there is only one founder."

He said two events were key to Ghana's independence, including the 1948 riots which he recounted, indicating that members of the UGCC denounced involvement.

"When the colonial masters started mass arrests, virtually every member of the UGCC denounced Kwame Nkrumah; they denied responsibility and said 'it was that communist agitator', I'm quoting the words of JB Danquah who said they had nothing to do with it so how can they be founders?" he questioned in an interview with Joy FM on Monday, September 18.