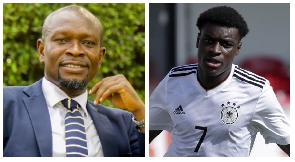 There is a saying which goes 'Like Father like Son' which literally means one emulates the footsteps of his father. The adage appears to be manifesting in the lives of some ex-footballers who are very fortunate to have their son's gradually stepping in their shoes.
A typical example is former Argentine defender and Atletico Madrid coach Diego Simeone whose three sons, Giovanni, Gianluca and Giuliano have chosen the part of their father to play football.

In Ghana, three-time African Footballer of Year, Abedi Pele can't be written off with his three sons, Andre, Jordan and Rahim all playing at the top level as their dad did.

Ghanaweb looks at 5 son's of Ex-Ghanaian footballers who have been tipped for greatness.

1. Joselpho Barnes

The son of Ex-Ghana U-17-star Sébastien Barnes who plays for Latvian side Riga is one for the future. Joselpho, 21, was on top form for his side, having scored 7 goals in 29 games as a midfielder.
He was part of Ghana's U-20 winning team in Mauritania. Joselpho is very versatile in midfield and can also play as an attacker.

2. Charles Herrmann

Charles is the son of Ex-Black Stars coach Charles Aknnor who plays for the U-19 side of German Bundesliga side Borussia Dortmund. Aged 17, Charles is rated as one of the most creative midfielders in the Dortmund youth team, having played a vital role for Germany's U-17 team to beat France to the European U-17 Youth Championship. He scored and provided three assists throughout the tournament.

3. Joshua Atsu

The 9-year-old son is the eldest son of the late Ghanaian international Christian Atsu who took after his father by starting a career in football. He recently helped his side Gosforth Football Club to win the Pro Motiv8 tournament in England. Joshua was crowned player of the year in the Northumberland Football League in March 2023. He is regarded as a star for his squad due to his consistently impressive play.
4. Abdul Aziz Wakaso

The son of Ghanaian international and Eupen midfielder Mubarak Wakaso is another rising star who is gradually following the steps of his dad. He plays with Progen FC, a five-star academy in Accra. He has been on international tours with the club and has also won trophies with the side. His dad has described as one for the future.

5. Terick Boateng

The eldest son of former Black Stars midfielder Derek Boateng is taking up the mantle from his dad with his pace, skills and power on the ball. Terick plays for the Right to Dream Academy where his dad also scouts for the team. Not much has been seen from the promising talent but with the exploits his dad made, eyes are on him to follow that path.

LSN/KPE