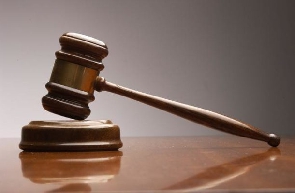 Sat, 25 Mar 2023 Source: GNA
A 58-year-old businessman, who allegedly encroached on 7.60 acres of land at Amasaman belonging to Nii Amasa Oseiku II, has been granted bail by an Accra Circuit Court.
Mr Patrick Owusu, who was charged with trespassing, pleaded not guilty.

The Court presided over by Mr Samuel Bright Acquah admitted the Owusu to bail in the sum of GH₵10,000.00 with one surety.

The Court directed that the surety should be a family member of the accused person.

The case has been adjourned to April 5, 2023.

The facts presented by Police Inspector Daniel Danku were that the complainant Nii Amasa Oseiku is the Chief of Amasaman, whilst the accused person was a resident of Lapaz.
It said on February 21, 2023, that Nii Oseiku lodged a complaint at the Regional CID, Accra that the Owusu had encroached on his 7.60-acre land at Amasaman.

Nii Oseiku produced documents covering the said land and a Police Investigation report from the National CID Headquarters to support his claim.

It said on February 23, 2023, Nii Oseiku led the Police to arrest Owusu for encroaching on portions of the land.

Owusu was operating a sawmill and had constructed a foundation on the land to build an office when he was arrested.

The prosecution said during the investigation Owusu produced an indenture from the Chief of Fise, a locality near Accra, who had lost several cases to Nii Oseiku.
Source: GNA