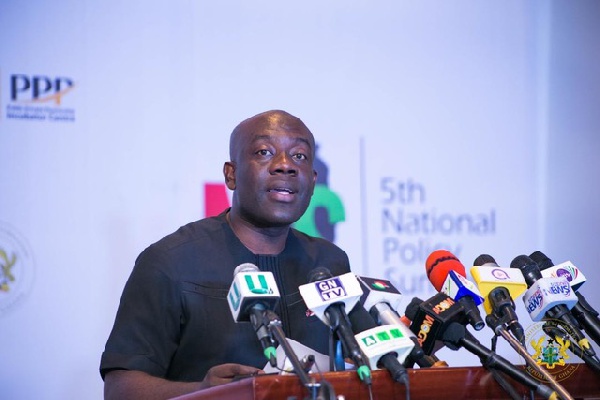 Mon, 10 Dec 2018 Source: Daniel Kaku
Government has rolled out a new pragmatic policy framework to streamline small scale mining activities otherwise known as galamsey in the country.
Under the new policy, government has trained over 3,000 small scale mining operators to carry out their activities in line with mining laws and regulatory framework.

Minister for Information, Mr. Kojo Oppong Nkrumah in a news conference in Takoradi ahead of the 5th National Policy Summit assured small scale miners of government's preparedness to assist them to resume operations to better their living conditions.

The NPP government in March 2017, banned galamsey activities in the country.

He said government has formed an Inter-Ministerial Committee to come out modalities on the way forward for small scale mining activities in the country on Friday, December 14, 2018.

"An Inter-Ministerial Committee against Illegal Mining was established to supervise ban and the transition to the new legal and well-regulated mining regime. The committee has completed its work and received cabinet approval to roll out the new framework", he said.
The Minister lauded the efforts of Operation Vanguard for their immense role in fighting the galamsey menace.

"Upon institution of the ban, a security operation known as Operation Vanguard was launched to enforce the ban. The operation comprising military and police men and officers has largely been successful in containing the situation. Several recalcitrant operators were also arrested and their equipment seized", he hailed.

Mr. Nkrumah said trained and approved small scale miners would be issued with operational licenses to resume work.



According to the Minister, government would under the new policy ensure strict compliance of mining laws which will protect the river bodies, ensure proper dredging and land reclamation after their operations.
Hon. Oppong Nkrumah emphasized "While some have speculated a lifting of the ban, government has been quick to correct that what will be announced is a new policy framework within which the over 3,000 newly trained former galamsey operators as well as thousands more who are interested in mining can operate legally".

He added that, "The ban was imposed in March 2017 when it was observed that small scale mining was being used as a cover for irresponsible mining as well as even illegal mining in many parts of the country. The practice fast led to a degradation of the environment affecting severely rivers and forest reserves. In some cases it even led to a contamination of agricultural products as a result of the absorption of dangerous chemicals used".


Source: Daniel Kaku
Send your news stories to and features to . Chat with us via WhatsApp on +233 55 2699 625.