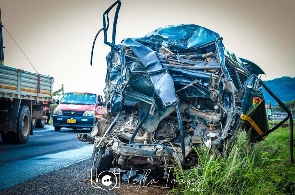 Six passengers are confirmed dead in a fatal crash on the Kpong stretch of the Akosombo to Tema Highway in the Eastern Region.
The deceased persons include two males and four females. Six others also including two males and four females are injured with two being in critical condition.

The ghastly crash occurred on Saturday, March 25, 2023, opposite KINGDACOCO school near Akuse Junction in the Lower Manya Krobo Municipality.

According to Emmanuel Tetteh, popular known as Leyla a local photojournalist, the crash occurred when a commercial Hyundai Vehicle with registration Number GB 4644 – 20 from Juapong heading to Accra collided head-on with a long heavy-duty track with registration GT 6473-21 after he failed to wait for the truck to pass at a narrow section of the road where a stationary Granbird Bus had taken part of the road.
A combined team of police, fire service and Ambulance Service rushed to the scene to rescue the victims.

The six injured are currently receiving treatment at the Akuse Government Hospital, the dead bodies have also been deposited at the same hospital waiting for identification.