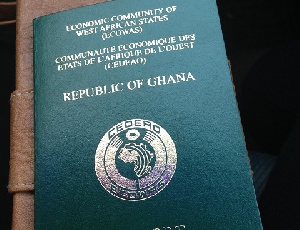 More than 60,000 Ghanaian passports which are ready for collection are gathering dust at the Passport Office because their owners are nowhere to be found, Deputy Minister of Foreign Affairs and Regional Integration, Mohammed Tijani, has revealed.
According to him, this is either as a result of the activities of some 'Goro Boys' (middle men) or the owners not being interested in the passports any longer.

Speaking in an interview with Chief Jerry Forson, host of Ghana Yensom on Accra 100.5FM on Friday in connection with passport acquisition in the country, Mr Tijani said: "You will be given a date to come for your passport and within 21 days you must go and find whether your passport is ready or not.

A lot of people have gone through the system and haven't gone back for their passports. People are not able to claim their passports, we have over 60,000 that have not been claimed; they are there."

"When I visited the Passport Office, we did random sampling, picked passports, called the numbers and the people we called were not there, some of them said that they hadn't filled for any passport form.
"This happens because somebody looks big and called somebody to fill a passport form for him or probably the applicants just gave the information to another person to fill and get a passport for them.

They may have given a number that may belongs to a 'Goro Boy' or probably they gave wrong numbers. These are some of the reasons these passports have not been claimed. Or somebody filled it properly though but abandoned it.

Mr Tijani said passport applicants living in Volta, Greater Accra, Ashanti, Western, Brong Ahafo and Northern regions can access passport services in their offices in those areas, adding that services would soon be extended to the other four regions: Central, Eastern, Upper East and Upper West regions.