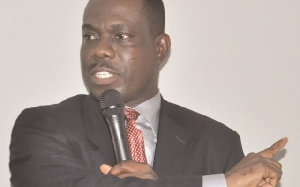 Ghana needs only about 60 ministers of state and deputies, Dr Eric Oduro Osae, the Dean of Graduate Studies and Research at the Institute of Local Government Studies (ILGS) has said.
Speaking to Emefa Apawu on Class91.3FM's 505 news programme on Tuesday concerning PPP flagbearer Dr Papa Kwesi Nduom's promise to cut down the number of ministers to 40 in a future PPP government, Dr Osae said a reduction of the number will save the state some money.

Dr Nduom, on Tuesday August 16, said Ghana did not need a bloated number of ministers, hence his determination to scale it down should he win the December 2016 polls.

"We will reduce the number of ministers of state to 40. That includes all of them, whether they are in the region or deputies or ministers of state. That will be made possible because we will rely on professional civil servants," he stressed, while addressing a news conference at the party's headquarters in Accra on Monday August 15.
According to the three-time presidential nominee, in order to ensure an effective administration, there was the need to rationalise the size of government.

Though there are no constitutional limits on the number of ministers to be appointed by a president, the current number of 72 ministers of state, including deputy and regional ministers in President John Mahama's government, is seen by the PPP flag bearer as too high and costly.