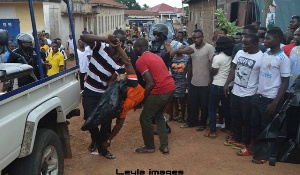 Seven young men who were described by the police as 'hardened criminals' and killed at Manso-Nkwanta in the Ashanti Region have been declared innocent in a report released by the Information Minister, Kojo Oppong Nkrumah.
The five-member committee established by government to look into the matter revealed that there was no evidence to support claims by the police that the young men were indeed armed robbers who exchanged fire with them.

The report showed that "there were no facts before the investigation committee to establish that the deceased persons were armed robbers who engaged in exchange of fire with the Police".

Following the report by the five-member investigation committee, government has decided to interdict the 21 police personnel who were involved in the incident and subject them to formal police criminal investigations.

Also, government will in consultation with families and community leaders provide support for dependents of the deceased persons.

Background

Seven young men, including five natives of Asawase, a Zongo community in Kumasi, were reportedly shot to death by armed policemen some months ago.
The police insisted that the men were on their way to rob a mining site near Manso-Nkwanta.

The police described the deceased as hardened armed robbers, which was vehemently refuted by the angry youth of Asawase.

The charged youth of Asawase, therefore, demonstrated and burnt car tyres in the streets until armed military personnel were sent to the place to ensure law and order at the place.

As part of efforts to ensure peace, the government quickly set up a committee to investigate the case in order to help unearth the whole truth about the matter.

Read full statement below;

STATEMENT ON SHOOTING INCIDENT AT MANSO-NKWANTA IN THE AMANSIE WEST DISTRICT
Following a shooting incident at Manso-Nkwanta within the Amansie West District of the Ashanti Region on July 17, 2018 resulting in the death of seven (7) persons, Government established a five (5) Member fact-finding committee to look into the matter.

1) The membership of the fact-finding committee was as follows:

a) Justice Obeng Diawuo - Justice of the High Court

b) Rt. Rev. Prof. Osei-Safo Kantanka - Pastor Methodist Bishop

c) Sheik Ahmed Siedu - Executive Secretary, Office of the Ashanti

Regional Chief Imam
d) Mr. David Adu-Osei - Ashanti Regional BNI Commander

e) Mrs. Emelia Ayebenu Botchway - Ag. Ashanti Regional Coordinating Director

2) The committee has since completed its work and submitted its report to Government.

3) According to the report, there were no facts before the committee to establish that the deceased persons were armed robbers who engaged in exchange of fire with the Police.

4) Government upon a careful study of the report, has decided as follows;

a) the twenty-one (21) police personnel involved in the incident who have been found to be the principal suspects be interdicted by the Police administration and be subjected to formal police criminal investigation into the matter.
b) in the interim, Government in consultation with the families and community leaders will provide support for dependents of the deceased persons.

5) Government assures the general public that due process will be followed in the pursuit of justice and calls for continued calm and patience pending a conclusive determination of the matter.

KOJO OPPONG NKRUMAH

Information Minister