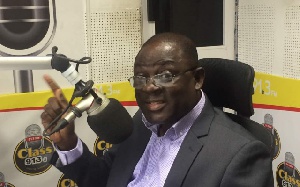 A former spokesperson of former President John Agyekum Kufuor, Andrew Awuni, has said any software that cost $72million should be effective to the extent that it should be able to "track when my father met my mother".
His comments come following the Economic and Organised Crimes Office (EOCO) investigations into the $72 million software purchased by the Social Security and National Investment Trust (SSNIT).

There are concerns that the monies paid for the system have been overpriced, with ICT experts arguing that the cost for the application is outrageous.

The software system, which was undertaken in 2012, is, according to SSNIT, meant to provide customers with convenient services.
Reacting to this development on Class91.3FM's Executive Breakfast Show on Thursday, 31 August 2017, Mr Awuni said: "For me, a $72million software should be able to track the very first day my father met my mother. That's the kind of investment we are talking about. But then in this country when people do things they do not do them because they want to serve the public. They do them for their parochial interest, their parochial motivation.

"My first line of example I will always give is the street lights. You take from 37 to where we are sitting here [Roman Ridge] or down Maamobi road to Dzorwulu, you'll see [electricity] poles on the streets. Each one of them cost not less than GHS500, it could be more. When it comes to awarding contracts we are in a hurry, you award the contract, they come and put up the poles and collect the money.

"The objective is not to serve the people of Nima or to light up Nima or to light up Dzorwuwlu, the objective is that he has been awarded a contract and taken his money. That's why nobody cares if after putting all that monies on the streets, the streets remain dark. And it could be just simple bulb which cost GHS10 but because originally their motivation was not that… I say this to say that perhaps the $72million investment for software was not exactly to serve you or to serve a contributor but of course to serve some immediate parochial interest. So this is what I suspect and so for me it did not surprise me…"