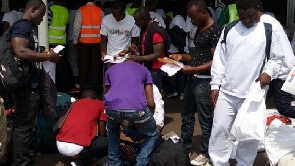 About ninety (90) Ghanaians who were illegally staying in the United Arab Emirates (UAE) arrived in the country between May 19 - 20, 2023.
The deportees were in two batches via Emirates and Ethiopian Airlines and went through necessary processes of the Ghana Immigration Service at the Kotoka International Airport before being handed over to the National Investigation Bureau (NIB) for further action.

MyNewsGh.com confirmed that most of them through fake recruitment agents travelled to Dubai illegally while others had overstayed their visas.

It is gathered that over 431 such persons are currently in Dubai with a number of them said to be in detention after being promised lucrative jobs by agents who smuggled them into the country only to be faced with a different reality.

Sources at the Ghana Immigration Service revealed to this portal that more deportees are expected in the coming days as the number that has so far arrived in the country is just a fraction of those expected.
It would be recalled that late last year, the Ministry of Foreign Affairs and Regional Integration (MFARI) said efforts were underway to evacuate some 431 Ghanaians who had been detained in Dubai, United Arab Emirates (UAE).

Comprising 341 males, 88 females and two children below the age of three, they were lured there by some agents who promised them jobs in Dubai and other cities in the UAE.

They have been detained at Al Tawadi Medical Centre and the Immigration Centre in Dubai, alongside an unspecified number of African migrants who have suffered the same fate.

A statement issued by the MFARI said the government was collaborating with the authorities of the UAE to bring the stranded nationals back home safely.