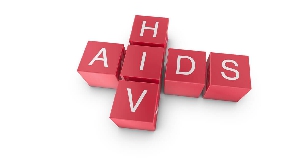 Thu, 31 Aug 2023 Source: GNA
The Ada East District HIV Programmes Coordinator, Mr Adator Anani, says the district recorded 95 Human Immunodeficiency Virus (HIV) positive cases in the first half of 2023.
This is from tests conducted on 678 people between January and June.

Mr Anani said this in a presentation during the 2023 Half-Year Performance Review by the Ada East District Health Directorate.

The district's target is to test 1,309 people for HIV for the year with a projected 193 positive cases, and it was able to test 678 in the first half.

BloodDonation 2023

In 2022 the target was to test 1,345 people out of which 48 positive cases were expected, but it exceeded the target by testing 3,650, which recorded 250 positive cases, he said.

Touching on the number of people on Anti-Retroviral Treatment (ART), Mr Anani said 1,427 were put on treatment in 2022, against the given target of 1,164.
The first half of 2023 saw 1,504 on treatment, compared to the 1,206 expected for the year, he said, explaining that the targets were based on the number of estimated HIV-positive patients residing in the town.

However, the figures for those on current treatment might not give the true picture for Ada East alone, as some of the patients accessed the ART services in facilities there even though they were residing outside the district, Mr Anani said.

He said even though the district was doing well in HIV management, more work needed to be done to achieve the national strategy agenda of 95:95:95.

The agenda means that at least 95 per cent of people living with HIV must know their status, 95 per cent of the people who know their status must be put on treatment, and 95 per cent of those on treatment must achieve viral suppression.

The viral suppression was very significant in reducing HIV transmission, he said, adding: "Ii you have people on treatment who are doing well, our new infections will significantly reduce"
Source: GNA