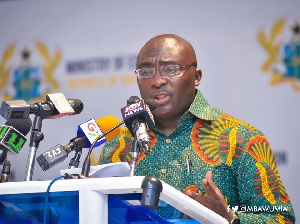 The Vice President Dr. Mahamudu Bawumia has insisted that Government has paid 1billion cedis out of the 1.2billion cedis of debt owed NHIS service providers constituting 98% of the total debt paid.
In his keynote address at the 2018 Health Summit organized by the Health Ministry in conjunction with the World Health Organization (WHO), under the theme: "Achieving Universal Health Coverage – Using Innovative Approaches", at the La Beach Hotel, the Vice President emphasized that government is committed to ensuring that the main challenge to the attainment of Universal Health Coverage, which is financing of health delivery, is dealt with decisively by the current administration.

He assured that government will continue with its health policies aimed at making Ghana a world class health delivery nation in the sub-region and on the African continent.

The Guest of Honor, Dr. Matshidiso Moeti, Regional Director for the World Health Organization (WHO) Regional Office for Africa, observed in her speech that WHO is pleased to work with the Government of Ghana to understand and address inefficiencies in the health sector which are common in most countries in Africa including Ghana.

She further called on all sectors of the Ghanaian economy to join forces to ensure that Ghana achieves Universal Health Coverage.
"Attainment of UHC will require that all, including the private sector, are fully engaged, in this regard, I wish to leave you with a question that we should all be thinking about; that is, what innovations can we put in place to leverage resources from the dynamic private sector in the country, to ensure equitable access to essential health services while progressing towards UHC with the principles of equity and affordability?," Dr. Moeti said.

The Minister for Health, Kweku Agyemang Manu, in his welcome address indicated that equitable distribution of health workers throughout the country is one of the critical issues that his ministry has to deal with.

Additionally, resource availability to the health sector of Ghana to procure all equipment remains the single most urgent challenge of the health sector and the country's ability to attain UHC.

He, however, assured that government attaches a lot of importance to solving the challenges the health sector is faced with.