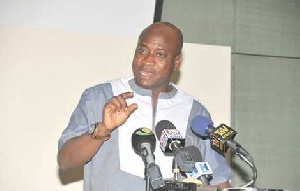 Former Deputy Minister of Trade under the Mahama-led administration, Ibrahim Murtala Mohammed, says the Deputy Director of the Criminal Investigations Directorate (CID) of the Ghana Police Service, ACP Maame Tiwaa Addo-Danquah, acted like a slave to the Flagstaff House over the corruption allegations by a member of the New Patriotic Party (NPP), Kwame Asare Obeng, also known as A-Plus, against the two Deputy Chiefs-of-Staff, Samuel Abu Jinapor and Francis Asenso-Boakye.
The former National Democratic Congress (NDC) Member of Parliament for the Nantong Constituency in the Northern Region said: "I can understand why that lady answered slavishly to the Flagstaff House".

The controversial musician, A-Plus, rendered an apology to Deputy Chiefs-of-Staff, Samuel Abu Jinapor and Francis Asenso-Boakye, for wrongly accusing them of corruption as far as their intervention in the termination of a revenue-collection contract between the Korle-Bu Teaching Hospital and uniBank is concerned.

In his latest video on Facebook, A-Plus said having listened to Mr. Jinapor's explanations on radio, he believes the two young presidential staffers were misled by uniBank. "In fact, as human beings – today is Sunday, now my wife has been pulling me to church; today I'm going to church – I think that when you do something and you don't do it the right way, if you want people to listen to you, it is very very important that you also come and say: 'OK, I've noticed this, and, therefore, I think that my approach was wrong," A-Plus posted on his facebook.

Commenting on the issue on TV3's New Day hosted by Bright Nana Amfoh on Monday, Mr Murtala Mohammed described the apologies from A-Plus as "a joke". "It is a joke and the NPP should not think Ghanaians are fools.
I can now understand why that lady answered slavishly to the Flagstaff House because suddenly, they think that we are bunch of idiots in this country," the former Deputy Minister explained. The Deputy Chief Executive Officer of the Ghana Standard Authority, Dr. Opoku Adusei, said what A-Plus has done shows he is not a serious person.

"We should take a cue from this that if you are a Ghanaian, don't spread falsehood because after tarnishing the image of the people, you come back to apologize. Ghanaians should take a lesson that he is not a serious individual but his apologies should be taken".

The Founder of the Youth Enterprise Development Network, Kasise Ricky Peprah, explained that "the fact that they did not receive money does not absolve them from corruption.

Absence of money does not mean absent of corruption". He said "as for the police report, I can say that nobody put any dot on it"