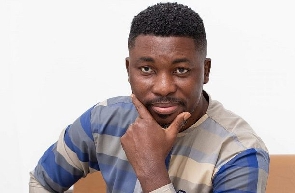 Musician, satirist and social commentator, Kwame Asare Obeng, known in the showbiz circle as Kwame A Plus has expressed disappointment in the kind of stage provided for Kamala Harris upon her arrival at the Kotoka International Airport, on Sunday, 26 March 2023.
The United States of America's Vice President is in Ghana for a three-day state visit, a trip that is also meant to strengthen US partnerships throughout Africa.

The first female vice president of the world's largest economy was received at the Kotoka International Airport by Vice President Dr Mahamudu Bawumia.

She was in the company of her husband, Douglas Emhoff, alongside some top US officials.

Aside from the historic visit, one thing that has engendered conversation, especially on social media is the stage on which she stood and delivered a speech.

Designed with kente with both the Ghana and US flags hoisted, the criticism has been that it could have been better as some argued that the stage was too ordinary.
A Plus in an Instagram post sighted by GhanaWeb, like some Ghanaians, was unimpressed as he made some comparisons while describing the stage as 'susubribi village square'.

He wrote: "You watch the Champions League final or the World Cup in Qatar, and within a matter of minutes, a beautiful podium is built for presentation. You watch the Super Bowl halftime show, and within the twinkle of an eye, the whole playing field is turned into a gorgeous stage for a musical concert. Here in Umofia, this is what Atta ne Atta were able to build in 73 hours; the most annoying part is that this caricature will be more expensive than any of the aforementioned.

"Dear International Monetary Fund, before you give them the loan, ask them how much was spent to build this Susubribi village square, and you'll know what your money will be used for."




You can also watch some of our programmes below








BB