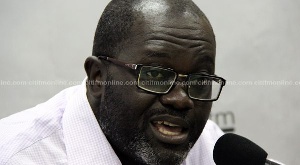 PPP Director of Operations, Nana Ofori Owusu says controversial musician Kwame Asare Obeng alias A-Plus' apology indicts the Deputy Chiefs of Staff, particularly Abu Jinapor whose name was mentioned in a recent Facebook post by the musician.
A-Plus has reportedly rendered an apology to the two Deputy Chiefs of Staff, Samuel Abu Jinapor and Francis Asenso-Boakye for wrongly accusing them of corruption.

The musician, after alleging that the Deputy Chiefs of Staff had committed some acts of corruption hence leading to Police investigations into the issue; recently took to his Facebook wall to say "I don't expect everybody to like me…now that I have come to understand that Abu does not even understand the issue, I will go ahead like I've said already and say I apologise for how I put this whole thing out; yes, because listen to him [Abu]: he does not even understand the issue. People have lied to him. Look at what he said, if he was being honest on radio, I have the impression that he was being honest, and that is all that they told him, then they have deceived him...the issue is that every Ghanaian watching me today ask yourself how can we have a government institution that can't tell how much money it makes? today I am not fighting with anybody...

"I think the fight should be over...all of us are looking for the best...after listening to Abu, I'm very convinced that he did not know that there is no system in place or mechanism in place to check or undependably tell what the leakages are and how much money the hospital makes …I will never sit here and say I am very happy with what I did. My presentation was very wrong…now it's time; we can't sit down. This issue must be solved"

But to Nana Ofori Owusu, after perusing the post, it is apparent that A-plus is insulting the intelligence of the Deputy Chief of Staff.

He stated that the post by A-Plus is another "serious allegation" and an "insult" targeted at the Deputy Chief of Staff for displaying his sheer inadequate intelligence on the issue involving Korle-Bu and Unibank; a matter that's at the centre of the corruption allegations.

The management of Korle-Bu Teaching Hospital abrogated a contract with Unibank and awarded it to Stanbic Bank for onsite banking services at the facility.
However, the management has rescinded their decision to terminate their contract with Unibank following the corruption allegations.

The Deputy Chief of Staff, Abu Jinapor was at the studios of Peace FM last week where he explained the issue to Ghanaians.

To him, A-Plus has not apologized but rather is saying he's forgiven the ignorance of the Deputy Chief of Staff.

"A-plus has still insulted the Deputy Chief of Staff. He says the Deputy Chief of Staff doesn't understand what he said…How is this an apology? You're saying the person you're apologizing to doesn't understand the issue and because of his ignorance, you forgive him for his ignorance".

"He's saying that the Deputy Chief of Staff is speaking from ignorance. It's another insult. It's another serious insult. It's not an apology…This is another serious allegation. It's not an apology", he stated emphatically.