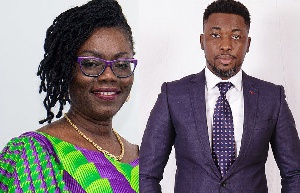 An Accra High Court (Labour Division) has granted an application by lawyers for Communications Minister, Ursula Owusu-Ekuful, to serve controversial musician, Kwame Asare Obeng, aka A-Plus, with a defamation suit brought against him on Facebook.
This was after lawyer for the minister had tried without success to locate the whereabouts of the musician to serve him in person.

Lawyer for Mrs. Ursula-Ekuful, Gary Nimako, after unsuccessful attempts to serve A-Plus with the suit went to the court to seek permission to use the means of substituted service to serve the musician.

The lawyer averred that all the laid-down procedures to serve the musician have been employed but to no avail.

He, therefore, prayed the court to grant them an order to use means of substituted service.

The court presided over by Justice Lorenda Owusu after listening to the lawyer's legal arguments ordered that the applicants are at liberty to post the suit on A-Plus' Facebook wall and he would be deemed to have been duly served once the post is done, especially since A-Plus spread the allegations on Facebook.
Defamation Suit

Minister of Communications, Ursula Owusu-Ekuful, sued controversial musician and sympathiser of the New Patriotic Party (NPP), Kwame Asare Obeng, aka A-plus, for defamation.

A suit filed by her lawyer, Gary Nimako, at an Accra High Court prayed the court for an interlocutory injunction on A-plus and his assigns from making further "defamatory comments" about her.

This follows the refusal of the musician to retract and apologize for alleged comments he made which suggested that Mrs. Owusu-Ekuful was involved in some corrupt deals at the communications ministry.

A-plus allegedly used his Facebook platform to accuse the minister of shady deals regarding the Kelni GVG contract which has generated a lot of controversy.
Talks about the contract were gaining momentum until the arrest of Kwasi Nyantakyi, President of the Ghana Football Association, for allegedly using the President's name and that of his Vice to secure contracts.

A-plus then took to Facebook where he allegedly posted "Kwesi Nyantakyi is only being sacrificed to cover up the $89/178 million KelniGVG stinking scandal."

Apology

The communications minister who took exceptions to the post through her lawyer asked the musician to retract the statement and apologise for the "defamatory" comments.

"We are instructed to notify you that our client takes a serious view of your defamatory publication on Facebook and would not hesitate to commence legal action against you if the said publication is not retracted on or before June 1, 2018.
"We are also instructed to notify you to render an unqualified apology in the same medium and prominence in the manner that your libelous publication was done," a precautionary letter to A-plus stated.

Dare

The precaution, however, appeared to have fallen on death ears as the musician blatantly ignored it and made further unsubstantiated comments on Facebook.

He is reported to have said, "If I apologise, Nimokafui and Ayetefrem and Chalabim and Salafim should kill me. You think this is 2017. I only helped you to win power. I'm not part of your nonsense. I'm not afraid of anyone. Not a single soul. I'm wild like a lion!!! Bring it on. You'll be humiliated. Thieves!!! Bunch of f-king thieves."

Reliefs
The post appeared to be the last straw as the communications minister instructed her lawyers to file a suit against the musician.

Part of the relief being sought by Mrs. Owusu-Ekuful is "an interlocutory injunction to restrain the defendant/respondent (A-plus) whether by himself, agents, servants, hirelings, privies or any person claiming under him or through him from making any further defamatory comments or publications about the plaintiff on Facebook or any media platform whether electronic or howsoever".