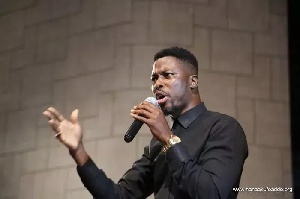 Editor-in-Chief of the New Crusading Guide newspaper has described as a "storm in a teacup," allegations of corruption against two Chiefs of Staff by a member of the New Patriotic Party (NPP) and musician, Kwame Obeng Asare, popularly called A Plus.
Kweku Baako Jnr., said but for the controversial leaked tape recording, the allegations made by A Plus, against Abu Jinapor and Boakye Asenso, were distortion and exaggerations.

Speaking on Joy FM's Newsfile programme, Saturday, September 30, 2017 Kweku Baako Jnr., alleged that A Plus was appointed either officially or unofficially as the Special Aide to the acting Chief Executive Officer of the Korle Bu Teaching Hospital but stopped short of suggesting that he was protecting his own selfish interest as far this whole scandal was concerned.

He took the trouble to explain in detail the alleged scandal between the two Chiefs of Staff and Korle Bu, which has since seen a new twist in a leaked tape controversy.

According to Kweku Baako Jnr., the scandal began after management of Korle Bu decided to abrogate a revenue collection contract it had with UniBank.

He said the contract had to be abrogated because Stanbic Bank was also doing the same job for the hospital and Korle Bu was uncomfortable having two banks performing the same job.

However, the decision to abrogate the contract with UniBank Kweku Baako Jnr., said, did not go down well with the Ghanaian-owned bank whose officials decided to petition the Vice President and the Chief of Staff on July 12, 2017.
The bank, he noted, believed due process was not followed in the award of the contract to their competitors—Stanbic—and demanded the presidency to intervene.

Kweku Baako Jnr., said when the matter was brought to the attention of the Chief of Staff, the two deputies in the office, particularly Boakye Asenso, was convinced the decision to select Stanbic ahead of UniBank was not transparent.

The Chiefs of Staff, Kweku Baako further noted, believed Stanbic had been favoured at the expense of a local bank without any due process.

According to him, the two concluded that the decision taken by the Korle Bu management was irregular and unsustainable, particularly in the absence of the board.

The New Crusading Guide boss said the position by the two persons did not go down well with A Plus who then began waging a crusade and an allegation of corruption against the two.

Kweku Baako Jnr., who was holding a copy of the report A Plus submitted to the Police Criminal Investigations Department (CID), said he [A Plus] did not at any point accuse the two Chiefs of Staff of collecting bribes.
However, Kweku Baako said A Plus accused the two of using their positions to favour UniBank at the expense and interest of the public.

The seasoned journalist quoted A Plus' report as saying Jinapor and Asenso Boakye were favouring UniBank because, the local bank contributed to the New Patriotic Party's (NPP's) campaign ahead of the 2016 election.

That, for A Plus, Kweku Baako Jnr., said smacked of corruption by the two Chiefs of Staff.

A Plus did not however, according to Kweku Baako Jnr., give any evidence of corruption or wrongdoing by the two gentlemen.

On that aspect, the ace journalist said the allegations by A Plus were nothing but "hot air" "except that the new twist which is the leaked tape controversy has to be investigated more."