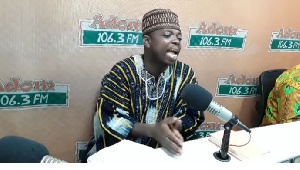 Outspoken youth organiser for the ruling New Patriotic Party, NPP, in the Brong Ahafo region, Kwame Baffoe popularly known as Abronye DC has asked the two Deputy Chiefs of Staff Abu Jinapor and Francis Asenso Boakye to sue Kwame Asare Obeng, also known as A Plus over the corruption allegations levelled against them.
His comment comes in the wake of Commission on Human Rights and Administrative Justice (CHRAJ) report declaring the two accused persons innocent.

CHRAJ was petitioned by a group known as Dynamic Youth Movement of Ghana (DYMOG) to investigate the two Deputy Chiefs Staff after A-Plus accused them of corruption in the flagstaff house.

In a Facebook post A-plus stated that '' It's amazing how Nana was able to appoint thieves whose level of stupidity is the same. Arrogant and corrupt fools. You think you'll be in power forever.''

He was subsequently invited by the police CID to substantiate his allegations. The CID has released its report clearing the two accused persons of wrongdoing.

Following the weeks of another set of investigation by CHRAJ Bright Assenso and Abu Jinapor has been cleared by the second time.
Meanwhile Abronye DC has called on the two Deputy Chiefs of staff not to allow A Plus to go scot-free.

"I don't feel sorry for A Plus because he is disappointed musician and politician. Yes, CHRAJ has cleared our two deputies but I don't want them to allow him to move freely else they will reduce the flagstaff house to public ridicule. Don't allow A Plus to go.

"He has caused fear and panic and so should be charged at the law court. They should stop saying that he is NPP man because a party member will not behave like that liar called A Plus" he said noted on Accra based Neat fm.

He therefore gave Abu Jinapor and Asenso Boakye a month ultimatum to take legal action against A Plus else he will personally file on their behalf.

"I will stand in for them and do power of attorney on their behalf and lead them if they claim they don't have enough time. I will make sure they take him (A Plus) on because he doesn't deserve to be walking around. He needs to be punished if not they will face my wrath" he warned.