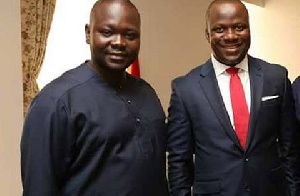 Deputy Chief of Staff Samuel Abu Jinapor has welcomed the report by the Commission on Human Rights and Administrative Justice (CHRAJ) which described as baseless the corruption allegations by musician Kwame A Plus against him and his colleague Deputy Chief of Staff Francis Asenso-Boakye.
"I'm not surprised because from the very onset I have known that the entire brouhaha was much ado about nothing. I knew what my involvement was," he noted after the CHRAJ probe.

A report by the commission confirmed the innocence of the two after it conducted investigations into allegations of corruption leveled against them by musician and staunch New Patriotic Party (NPP) supporter, Kwame A-Plus, indicating that "the allegations could not be substantiated whatsoever."

The basis of his allegation was that Mr Asenso-Boakye and Jinapor had interfered in the management of Korle Bu Teaching Hospital and in the opinion of A Plus, that amounted to corruption.

The musician held the view that the two forced the Korle-Bu CEO to give a revenue-collection contract to uniBank after the same contract had been given to a wholly-foreign-owned bank.
The Criminal Investigations Department (CID) of the Ghana Police Service had earlier described as "baseless", the accusations made by the musician.

However a group petitioned CHRAJ to conduct further investigations and the report has exonerated the accused persons.

Mr Jinapor who was speaking in an interview with Accra based Citi FM on Tuesday, December 5 said: "It is refreshing and comforting that CHRAJ which was created by our constitution and is an independent body took this matter and came out with a decision. The investigation from the judgement that I read comes across as very thorough and therefore I am happy and excited".