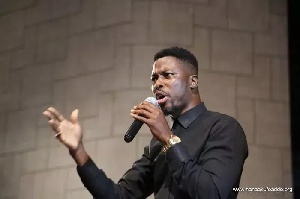 The Coalition of Democratic Governance (CDG) has questioned the credibility of an investigation conducted into corruption allegations presented against two appointees of President Nana Addo Dankwa Akufo-Addo by Kwame Asare Obeng popularly known as A Plus.
Kwame A Plus on August 27, 2017 published a video on his Facebook page in which he accused two Deputy Chiefs Staff Francis Asenso-Boakye and Samuel Abu Jinapor of corruption, thievery and arrogance.

A Plus also questioned why President Akufo-Addo appointed Asenso-Boakye and Abu Jinapor to the positions they occupy.

To establish the legitimacy of the allegation and to take action against the individuals per Section 239 of the Criminal and other offences Act (Act 29) which states that, "A public Officer of Juror who commits corruption, or willful oppression or extortion in respect of the of the duties of office, commits a misdemeanour", the Criminal Investigations Department (CID) started investigations.

However, the outcome of report presented by four senior detectives confirmed that the allegation of corruption against the two politicians was baseless and without merit.
But according to a statement by the CDG, an independent pressure group, the investigative report by the CID lacks credibility and, therefore, needed further probe.

"We join other anti- corruption organisatons to calling for further probing, and our emphasis is the calling of the Ghana Police Council to conduct an independent investigation on issues of ethics of professional policing and substantively that of the A-Plus corruption allegation against the two Deputy Chiefs of Staff," the statement reads.