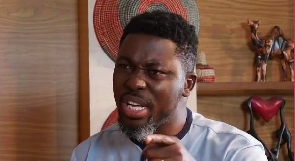 Amidst the controversy surrounding Nana Ama McBrown's departure from the Despite Media Group, a recent social media exchange between a netizen and Ghanaian musician and political activist A Plus has garnered attention.
In the Instagram post shared by thosecalledcelebs, a user by the name of Reign posed a question to A Plus, asking if he would choose to attend Nana Ama McBrown's show on Onua TV if it clashed with UTV's United Showbiz, which A Plus is a regular panelist on.

"So A Plus, assuming she does her show on Saturday and at the same time as UTV, which one will you attend?" the netizen asked.

A Plus responded to the question with a metaphor, comparing the situation to Kantamanto, a popular market in Accra where several vendors sell similar products in close proximity.

He explained that all the vendors have their customers and make good money, but some customers choose to walk past the ones at the entrance and purchase from the ones at the very end.

"When you go to Kantamanto, there are many people at the same place selling shoes. All of them have their customers and all of them make good money.

"There are some people who pass the ones at the entrance and walk all the way to the ones at the very end to purchase from them. Bro, the kind of mentality that informed your question will limit your potential in," he responded.
McBrown was on March 13, 2023, unveiled as the newest addition to the Media General brand.




Watch the latest episode of Talkertainment below:





ADA/BB