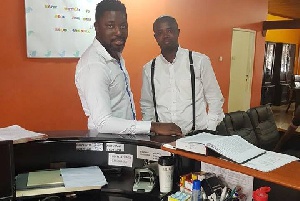 Controversial hiplife artiste Kwame Asare Obeng (A-Plus) has walked to the Accra High Court Registry for his suit.
It was reported that Lawyer of the Hon. Ursula Owusu-Ekuful, Gary Nimako, argued in court that all efforts to have A-Plus served with the suit proved unsuccessful.

An Accra Labour High Court presided over by Justice Lorenda Owusu, granted an application by lawyers of the Minister for Communications, seeking permission to use the means of substituted service, to serve the popular musician, Kwame Asare Obeng (A-Plus), with the defamation action brought against him by the Minister.

The court after the legal arguments ordered that the applicants are at liberty to post the suit on the Facebook wall of the musician and he will be deemed to have been duly served once the post is done.

But, A Plus posted on his Facebook Timeline, Tuesday, after he personally drove to the court registry to ask for the suit.

He wrote,

"They told the court that they can not find me to serve me just to create an impression that I'm running away. So I walked into the court myself today and asked for the summons Initially I was told there was an order not to give it to me. Then I replied: "Anka m?da ha!!! If you guys don't give me this summons today I will organise a press conference and tell everybody that they don't want to serve me because they know they will lose." A little bit of back and forth…. so we had to go to the Court Registrars office. Bailiff: Sir there is an order to serve him on Facebook so I'm told we can't give it to him. Me: Boss I beg you. They said I'm running away. That is why I've come here myself. Please give it to me. Court Registrars: He's here himself. Give him a copy. What are you talking about . The registeral di? God will bless him anksa
Finally I got it. Come and see straight to my lawyer, Edudzi Tamaklo…champion lawyer barko p?. "Kwame A Plus is running away" lier lier pants in fire!!! [sic].

A-Plus is said to have accused Ursula Owusu -Ekuful, of being involved in shady deals at the Communications Ministry.

He also accused the Minister of cover up in the 89 million dollar Kelni GVG deal.

The applicant in the defamation suit is seeking an interlocutory injunction to restrain A-Plus from making further defamatory comments about her according to the statement of case filed in court.

The Minister is praying the court for an order directed at A-Plus to retract and apologize.