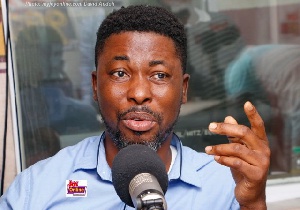 Thu, 5 Oct 2017 Source: Daniel Kaku
General Secretary of the Young Cadres Association (YCA), Mr. Bright Botchway, has stated that outspoken musician, Kwame Asare Obeng popularly known as A Plus was influenced by higher authorities at the Flagstaff House to pull down his Facebook post and apologise to the Deputy Chiefs of Staff, Abu Jinapor and Francis Asenso after alleging that the two were corrupt.
Kwame A Plus over the past few weeks, described the two Deputy Chief of Staffs, Abu Jinapor and Francis Asenso as being highly corrupt and 'thieves'.

These comments triggered attacks on the two Deputy Chief of Staffs because Mr. Kennedy Ohene Agyapong had made similar pronouncements that Gabby Asare Otchere Darko and Duke Ofori Atta takes an amount of $20,000 before allowing any Investor to meet President Akufo-Addo.

The President set up a committee to investigate the allegations levelled against his two appointees by the Musician who also happens to be a staunch member of the New Patriotic Party.

The Criminal Investigations Department of the Ghana Police Service within few days of investigations, came out with a report to rubbish the allegations made by Kwame A-Plus and described it as baseless.
A Plus has since been forced to render an apology to Abu Jinapor and Asenso after a leaked tape capturing a phone conversation between him and ACP Tiwaa Addo Danquah, the Deputy Director of CID of Ghana Police Service was made public.

But commenting on the issue, Bright Botchway argues that A Plus was coerced into apologising.

He believes it is one of the many intimidating tactics employed by the NPP to force people into taking decisions against their wish and preventing others from criticising and exposing the rots in the government.

He said, "the same powers from above" that forced A-Plus to pull down his Facebook post, intimidated him to apologize, just to make the two Deputy Chiefs of Staff look good."
Source: Daniel Kaku