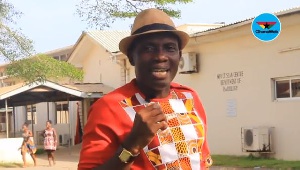 Ghana's controversial marriage counsellor George Lutterodt is at it again.
This time around he is saying that woman should not give their husbands better treat when they get to bed if they are not able to pay their house rents.

The Counsellor made this known when he was speaking in GhOne TV's Tales from the Powder Room where he stated that any unemployed man who cannot afford for rent is not worthy of having s*x because he has shirked his responsibility.

Lutterodt also mentioned that every wife should put an end to feeding their men six months after they lose their jobs.
To him, a man who continues to stay jobless after six months does not deserve to be fed and therefore wives should desist from shielding their lazy husbands.

Counselor Lutterodt is noted for passing controversial comments especially when it comes to marriages and relationship matter. But do you think he has a point by asking the woman not allow their husbands to sleep with them if they can't pay rent??