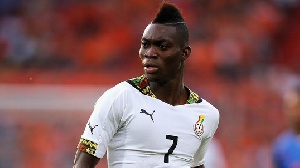 Newcastle United star Christian Atsu wants Black Stars players to sponsor Ghanaian sports journalists to the 2019 Africa Cup of Nations in Egypt to court their support for the team during the tournament.
To the Ghana winger who will be making his fourth consecutive AFCON tournament, journalists will play a vital role in helping the team realised their dream of winning the cup, hence the players must come together to sponsor some of them to the fiesta.

Atsu believes that, out of nothing, journalists can create issues that will affect the chances of the team and as key stakeholders, they must be brought on board to champion the agenda of winning the tournament.

Speaking in an exclusive interview with footballmadeinghana.com before the team departed for their camping in Dubai, Atsu passionately aimed at pushing the agenda of sponsoring journalists to the tourney.

"This time I think we have to invite the journalist and have a meeting with them."

"We the players have to sit with them. If we can sponsor some of them to Egypt, we have to stick to them and communicate with them," he said.
"We don't want them to be far with us. They can get close to us in the hotel. We don't mind.

Atsu revealed that getting journalists far away from the team sometimes prevents them from getting accurate information hence most of the fact-less information out there.

The attempt, however, is not to keep journalists' mouth shut from given out information but to get them closer for their support and also to have access to first hand information.

"We have to get the journalist close to us. Speak to them, if we have problem we discuss with them, if they also have problem they come to us. This is how you unite team.

"We have to be for each other and not against each other," he added.
"Journalist play important roles in the team. When a journalist brings bad news outside," you may think it doesn't affect the team, but it affect the players. We need peace, a footballer needs peace to play better.

"Journalists are very important, we have to get close to them, speak to them, and that, I believe can help us win this AFCON.

"If we don't win the AFCON many people are going to retire," he said.

The African Cup of Nations will kick start on Friday 21st June 2019.