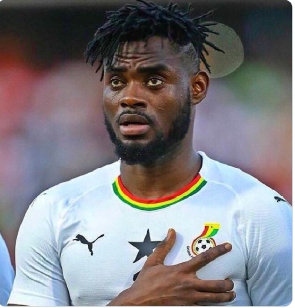 Kasim Nuhu Adams has received a call-up to the Ghana national team to replace the injured Alexander Djiku for the upcoming Africa Cup of Nations (AFCON) qualifier against Madagascar.
The FC Basel defender, who showcased an impressive performance during the recently concluded season, brings a wealth of experience to the squad, having earned 11 caps for Ghana since his debut on November 12, 2017.

The 27-year-old Kasim Nuhu Adams will step in to fill the void left by RC Strasbourg defender Alexander Djiku, who sustained an ankle injury during a French Ligue 1 match against Troyes on Sunday, May 21, 2023.

In a statement to confirm then news, the GFA wrote, "Kasim Nuhu Adams has been called up to replace Alexander Djiku for this month's Africa Cup of Nations qualifier against Madagascar," the official Twitter account of the Black Stars said on June 9, 2023.

Djiku's absence presents an opportunity for Nuhu Adams to demonstrate his skills and contribute to Ghana's campaign in the AFCON qualifiers.

Ghana, currently top of Group E will book qualification if they manage to bear Madagascar on June 18.
The Black Stars recorded their worst performance at the 2021 AFCON where they failed to win a match.

Ghana lost to Morocco in their first match and managed a draw against Gabon before losing to Comoros.

The next edition would mark 42 years since Ghana won their last AFCON after their success at the 1982 edition of the African Cup of Nations.

The Black Stars have won a record of four titles at the AFCON and would be looking forward to making it to the next edition of the tournament.


???? Kasim Nuhu Adams has been called up to replace Alexander Djiku for this month's Africa Cup of Nations qualifier against Madagascar.

➡️ https://t.co/vYyT8jtMnf#BlackStars | @KassimAdams24 pic.twitter.com/bYduWfGIIF

— ???????? Black Stars (@GhanaBlackstars) June 9, 2023
You can also watch the latest episode of People & Places here:
Watch the latest episode of The Lowdown below:


AM/DO