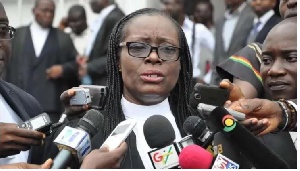 The Attorney – General (AG), Gloria Akuffo has revealed that the brother of former president John Mahama may soon answer charges of underpayment of taxes.
Ibrahim Mahama may face prosecution for the issuance of two dud cheques. The amount represents duty owed with respect to the purchase of heavy equipment cleared by his companies in 2015. According to the AG, initial docket submitted to her office has been reviewed, and further investigations are ongoing.

Per records made available by the Ghana Revenue Authority (GRA), the two companies, MBG Limited and Holman Brothers, cleared the equipment from the Tema Port two years ago. The GRA disclosed that MBG Limited owed it GHS13.15 million and Holman Brothers also owed GHS3.71 million in duties.

Ibrahim Mahama allegedly issued two cheques, one with GHc10, 216,258.47 written on it, and the other with GHc2,176,544.61 on it. The AG further added that the total amount stated on both cheques was even less than what was owed. According to her, the investigators would be looking into that as well.
She also stated that in order to secure conviction, there was the need for the state to prove the burden of responsibility. Mere suspicion, she said, would amount to nothing in a court of law. She concluded by saying that the process of gathering evidence is very important, and not akin to "…collecting papers".

However, the main opposition party, the National Democratic Congress (NDC) has stated that the government is simply on a witch hunting exercise. Its deputy General Secretary, Koku Anyidoho, observed that it was not out of order for the government to exhaustively probe a matter, and as such it deserves no commendation.