General News Tue, 13 Dec 2016
AMA clears hawkers from Nkrumah Interchange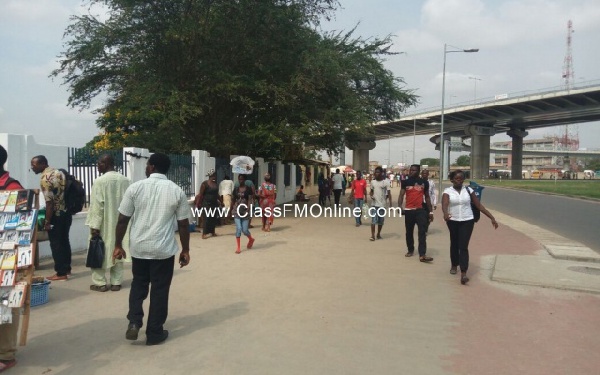 The Accra Metropolitan Assembly (AMA) in collaboration with the police on Tuesday, December 13 cleared hawkers who took over the pavements at the Kwame Nkrumah Interchange following the victory of the New Patriotic Party (NPP) in the December 7 election.
ADVERTISEMENT
The hawkers who were sacked to clear the area for easy flow of human traffic returned to the pavement arguing their party had won the election.




Speaking on the Executive Breakfast Show (EBS) on Class91.3FM on Tuesday AMA boss Alfred Oko Vanderpuije described the activities of the hawkers as 'indiscipline' and promised to deploy AMA taskforce to clear them off the pavements to restore sanity.




"It is rather unfortunate that after a national exercise of this nature of an election when one party wins then supporters of one party will say that our government is in power so they have to be indiscipline. I think that both our president and the president-elect have all addressed this issue that nobody should take the law into his hands and nobody should use the outcome of this election as a means to undermine our national development," he stated.

"The Kwame Nkrumah interchange has been developed by this current administration for the people of Ghana and if after an election any group of persons think that they can just do things that can be described as indiscipline that will not be tolerated. I have already asked my security personnel at the AMA to make sure today they clear all persons and to restore the Kwame Nkrumah Circle to the state before the election," the AMA boss added.
ADVERTISEMENT


When ClassFMOnline visited the area at about 10:30am, the hawkers had been sacked.


ADVERTISEMENT