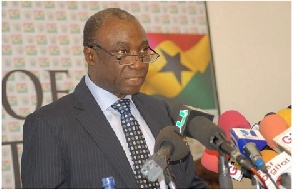 Former Power Minister, Dr Kwabena Donkor, is expected to appear before the Mines and Energy Committee today, Friday, 20 October, 2017 to answer questions in relation to the controversial $510million Africa and Middle East Resources Investment Group's (AMERI) power deal.
Member of Parliament (MP) for Adansi Asokwa, KT Hammond has filed a motion of rescission asking Parliament to withdraw its approval of the power agreement in 2015

Mr Hammond wants it cancelled even though he seconded its passage to rent the 300MW emergency power plant at the height of the power crisis in 2015 in his capacity as the ranking member of the Energy Committee of Parliament.

The Speaker referred the motion to the Mines and Energy Committee for deliberation but the Minority claims the move is alien to their standing orders leading to a boycott of the committee's work.

With the principal witness, KT Hammond, already given his testimony last Wednesday, it is expected that Dr Kwabena Donkor will also seek to counter those claims and argue that the deal is in the best interest of the country.
Mr Hammond presented the following evidence to back his call for the rescission of the deal.

(1) AMERI did not provide fast-track equipment contrary to the agreement. They assigned their interest to a subsidiary known as AMERI Equipment which was registered 13 days after the agreement had been signed with Ghana.

(2) AMERI Equipment (the subsidiary) did not undertake the construction but assigned this to a Turkish Company called PPR without the consent of the government of Ghana as required.

(3) A Turkish company, PPR, bore all financial risk, raised all capital and was paid with money government of Ghana paid AMERI.