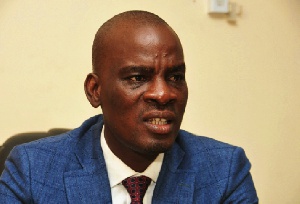 Minority Leader, Haruna Iddrisu has challenged the Adansi Asokwa Member of Parliament, K.T Hammond to seek redress in court over his concerns on the AMERI power deal.
The minority walked out in protest over the conduct of the Speaker in relation to the AMERI deal Tuesday.

Notwithstanding the agitation by the minority side, the motion filed by K.T Hammond for the rescission of the AMERI deal was referred to the House Committee on Mines and Energy.

The minority had argued that the Speaker breached Standing Orders of the House when he referred the motion without allowing debate and questions on it from the minority side.

During proceedings Tuesday, Hon. Iddrisu, holding a Supreme Court ruling of 2016 between John Ndebugri vs Attorney-General and two others reminded the House to tread cautiously over the said urgent motion since any attempt to interrogate the deal may also end up in court.

But he was interrupted on a point of order by the Majority Leader, Osei Kyei-Mensah-Bonsu who craved the indulgence of the Speaker to rule him out of order since the motion had in the first place not been moved by the lawmaker for Adansi Asokwa.
"Mr. Speaker if a motion has not been moved and seconded, there is nothing before. Mr. Speaker, we are anticipating what may be done. I don't know under what which Orders the Minority is coming from. The Minority Leader is not competent to comment on a motion that has not been moved. We are not there yet and so you shouldn't be in a hurry. Clearly he is out of order," noted Osei Kyei-Mensah-Bonsu.

The Speaker, Rt. Hon. Prof. Aaron Michael Oquaye, having listened to the superior argument advanced by the Majority Leader ruled Haruna Iddrisu out of order and allowed K. T. Hammond to move the motion that stood in his name, which was seconded by the deputy Majority Leader, Sarah Adwoa Safo, and subsequently referred to the Committee on Mines and Energy.

Commenting on the turn of events which the minority have raised objection to with regards to the controversial motion, the Minority Leader, Haruna Iddrisu holds the view that the Adansi Asokwa legislator resorted to the wrong forum to address his concerns, hence their boycott of proceedings Tuesday.

"…I'm saying that the appropriate forum should be the court, because subsequent to parliament approval, there is a contract now between the government of Ghana and AMERI. He K.T Hammond and parliament are not party to that contract, therefore they cannot suffer the burden nor the benefit of it. So we are not saying that parliament cannot rescind its decision but it must do so when there is no judicial decision on it; on this matter there is," Mr. Haruna Iddrisu told Accra-based Cit FM.