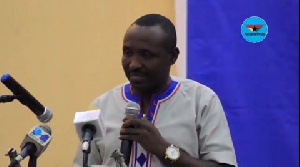 The brouhaha surrounding the AMERI deal seems not to be ending soon as the General Secretary of the ruling New Patriotic Party(NPP), John Boadu has hinted of government decision to renew investigation into the Ameri deal and proceed to prosecute persons found culpable in shortchanging Ghanaians per the deal.
John Boadu describes the AMERIdeal as fishy with no regards to value for money.

He indicated that the Akufo Addo- lead government will take fresh steps to review the deal to make sure the country has value for money spent on the project.

Addressing party faithful at a Thanksgiving Service in Cape Coast marking the 71st Anniversary of the birth of the United Gold Coast Convention(UGCC), the country's foremost Political Party or Movement , Mr John Boadu indicated that government is ready to investigate all contracts signed to make sure no person or persons milk the state.

Meanwhile, AMERI Energy has rejected the controversial novation amendment agreement aimed at handing over the $510million power contract it signed with the government in 2015 to a new entity.

The novation and amendment agreement, seeking to buy out the deal Ameri Energy has with the government and handed over to a third party Mytilineos for 15 years received approval from President Akufo-Addo by way of an Executive Order on July 31 after parliament refused to ratify it.

The joint committee on Finance and Energy of Parliament rejected the new deal because it had no signatures from the Attorney General and Finance minister.
Under the new agreement, a new company, Mytilineos International Trading Company, will take over the management of the AMERI power plant for 15 years.

The new company has offered to pay AMERI an amount of $52,160,560, with the government paying the remaining $39 million to the Dubai-based AMERI Energy to wash its hands off the deal entirely.



It has however emerged that President Akufo-Addo was misled by his Energy Minister Boakye Agyarko into approving the new agreement, which has been described by the Minority in Parliament and other energy think tanks including African Centre for Energy Policy (ACEP) as "stinky" and "rip-off."

Commenting on the development in a letter dated July 31 to the Energy Minister, Ameri Energy stated unequivocally that it will not abdicate the deal it signed with the Mahama administration and it is fully committed to seeing it through.

"As you are fully aware we have never been involved with your ministry in any kind of negotiations or discussions related to this novation and amendment agreement. Moreover, also never had an insight of any commercial discussion between you and the new party, therefore could not have verified that the above permissions were not obtained at the time of presentation before parliament," the letter sighted by Starrfmonline.com read in parts.
"In view of the ongoing circumstances, the management of Ameri energy has taken notice of this and would like to inform you that we shall not be deemed associated with the novation and amendment agreement and will only remain committed to our original BOOT agreement signed on 20th of February 2015," it further clarified advising that; "Upon the completion of our five years term, your ministry can freely decide to handover the project to any third party at a commercial arrangement you may deem right."



Threats of Legal action

"Through this letter, we would like to serve you this as a final notice of default of our outstanding payment of eighty-two million, six hundred and sixty thousand, five hundred and sixty United States dollars duly acknowledged by you thorough your memo presented to the parliament dated 25th of July 2018. In this respect, several notices have been duly served and received by your ministry but no remedial action has been taken.

"We would like to draw your attention that in the event that your ministry does not settle our outstanding payments immediately we will be left with no option but to draw on the standby letter of credit (SBLC) to recover part of our outstanding payment like and adopt the legal remedy available to us, the letter signed by Ameri Energy CEO Maher Al Alili warned