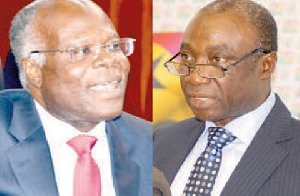 The New Patriotic Party (NPP) Member of Parliament (MP) for Adansi Asokwa, K.T. Hammond, has revealed to the Mines and Energy Committee of Parliament that Africa & Middle East Resources Investment Group (AMERI) Energy fleeced Ghana to the tune of $150 million and went on profit shopping without investing a penny in the power deal with the Government of Ghana in 2015.
Mr K.T. Hammond, who appeared before the Mines and Energy Committee yesterday to present fresh dossier on the AMERI deal for it to determine whether the parliamentary approval of the deal ought to be reversed or not.

He said AMERI Energy did not only violate the agreement with the then government, but also hid very crucial information from the Committee that looked at the nitty gritty of the agreement before its approval by parliament in March, 2015.

However, the minority National Democratic Congress (NDC) boycotted the session that was deliberating on the urgent motion, saying the motion to withdraw the deal was not debated in parliament before being forwarded to the Mines and Energy Committee.

Mr KT Hammond, who was the ranking member of the Committee when the deal was approved, filed an urgent motion just before the current parliament went on recess, asking the house to rescind its approval of the deal following fresh documents he had stumbled upon which make the deal a stinking one.

The Adansi Asokwa MP said AMERI Energy was to build and install 10 GE TM2 500 aero derivative gas turbines to provide 250 MW on a Build, Own, Operate and Transfer (BOOT) basis with the government of Ghana in a nine-month period at the peak of the energy crisis the country was going through then.

According to Mr Hammond, after the agreement was approved by parliament, AMERI failed to provide the fast-track power generating equipment by itself and sublet it to a second party by name AMERI Energy Power Equipment Trading LLC, which also eventually assigned the project to a Turkish registered company – Power Project SANAYI.
He said all the subletting should have received prior written consent of the Government of Ghana to make them valid, but did not

"In fact, AMERI Energy did not raise any loans from any bank. Indeed, AMERI Energy and Equipment did not also raise any capital from their own internal resources. The two separate agreements, dated July 17, 2015 and September 17, 2015 and made between AMERI Energy, AMERI Energy Power Equipment Trading LLC and Power Project SANAYI (PPR) of Turkey and between AMERI Energy Power Equipment Trading LLC and PPR, demonstrate clearly that neither AMERI Energy nor AMERI Energy Power Equipment had any intention to raise any loans for the project," K.T. Hammond told the committee yesterday.

According to the MP, at the completion of the project by PPR, the cost was estimated at $360 million, but it was inflated to a whopping $510 million in the original agreement with a windfall of $150 million for AMERI, which never invested a penny in the project, as well as its 'collaborators.'

"It was PPR which bore all the financial risk. It was PPR which raised the required capital and undertook the EPC work. PPR was paid on monthly basis out of the monies Government of Ghana was obligated to pay under the actual BOOT Agreement approved by this house. PPR was to be paid an overall fixed sum of $360 million and for doing basically nothing, and taking on no financial risk. AMERI Energy made a whopping killing of $150 million in one fell swoop at the expense of the poor tax payers of this country," Mr Hammond observed.

"Mr Speaker, it is in view of these developments and acts of gross misrepresentation that I move that this house rescinds its decision to approve the Build, Own, Operate and Transfer agreement between the Government of Ghana and AMERI Energy for the installation of 10 GE TMs, 500 aero derivative gas turbines, operate, maintain, transfer and provision of support services that the House took on March 20, 2015."