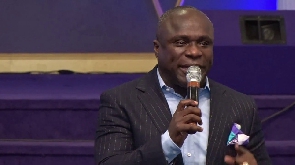 The Alliance for Social Equity and Public Accountability (ASEPA) has petitioned the Criminal Investigation Division (CID) of the Ghana Police Service to arrest Rev Victor Kusi Boateng, the secretary to the Board of Trustees of the National Cathedral of Ghana.
According to the alliance, evidence provided by the Member of Parliament for North Tongu shows that Rev Kusi Boateng, who is also known as Kwabena Adu Gyamfi, deceived public officials by presenting wrong information to them to acquire national documents.

ASEPA, in the petition which was sighted by GhanaWeb, said that Rev Kusi Boateng's actions violate the Criminal and Other offences Act, 1960 (Act 29) and he has to be arrested and investigated.

"We have reasonable conviction that the respondent has violated various provisions of the Criminal and Other Offenses Act, 1960 (Act 29) specifically Sections 251, 215 and 132 relative to the Offenses of; Deceiving a Public Officer-Section 251, Deceit of a Court by Personation- Section 215, Defrauding by False Pretences-Section 132

"For the avoidance of doubt, Section 251 of Act 29 read: A person commits a misdemeanour who, with intent to defeat, obstruct, or prevent the course of justice, or the due execution of the law, or evade the requirements of the law, or to defraud or injure a person, or to obtain or assist in or facilitate the obtaining of any passport, instrument, concession, appointment, permission or any other privilege or advantage, endeavours to deceive or to overreach a public officer acting in the execution of a public office or duty,

"… (a) by personation, or by a false instrument, document, seal, signature, or (b) by a false statement, declaration or assurance, whether written or verbal or by a written or verbal statement, declaration or assurance which the person making the statement, declaration or assurance did not have good reason to believe to be true," parts of the petition which was issued by the Executive Director of the alliance read.
The group said that it is also worrying that Rev Kusi Boateng continues to use both identities without any repercussions.

It added that it is ready to assist the police with all the information it needs in the course of its investigation.

ASEPA petition comes after Samuel Okudzeto Ablakwa released more documents of the secretary of the Board of Trustees of the National Cathedral of Ghana, Rev Victor Kusi Boateng, who he has accused of operating a dual identity for criminal purposed.

The new documents released were contained in an explosive 85-page affidavit filed by Ablakwa's lawyers in opposition to the contempt application filed against him by Rev Kusi Boateng.

The new evidence included voter registration details and a list of companies registered under the name Rev Victor Kusi Boateng as well as companies registered under Kwabena Adu Gyamfi.
The lawyers exhibited Kusi Boateng's 2016 Voter's ID Card which is in the name Victor Kusi Boateng and his 2020 Voter's ID Card which is in the name Kwabena Adu Gyamfi with a different age.

They also presented documents that showed that the pastor has registered eight companies under the name Adu Gyamfi with the Office of the Registrar of Companies and another eight under the name Rev Kusi Boateng.

Read the full petition by ASEPA below:


You can also watch this episode of People & Places on GhanaWeb TV below:



IB/DO