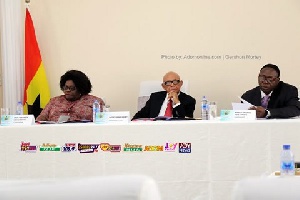 The Commission probing the Ayawaso by-election violence has ruled against a request by lawyer for witnesses Delali Brempong and MP Sam George to cross-examine some earlier witnesses who made claims regarding them at the commission.
The Chairman of the Commission Justice Emile Short in his ruling said allowing such an application to stand will disrupt the proceedings of the commission.

"The Commission declines the request by Counsel of Mr. Delali Brempong and Sam George to cross-examine witnesses who have offered testimonies," Justice Short said.

The ruling further noted: "The work of commission is not to decide what the balance of right and liabilities are between two parties… allowing the request will fundamentally disrupt the proceedings of the commission. The commission has for good reason adopted the inquisitorial approach in its way".

Responding to the ruling, lawyer for the two witnesses Dominic Ayine expressed gratitude to the Commission and stressed that he is happy to note that the outcome of the commission's work will not have direct consequences on the political future of his clients.

Meanwhile, the Ningo Prampram MP blamed the vigilantism menace in the country on the failings of the country's land tenure system.
He said the people who are recruited by political parties for vigilante activities are often known land guards who have no profession aside protecting lands.

He said if the police are allowed the free hand will to deal with such individuals, vigilantism will be properly dealt with in this country.