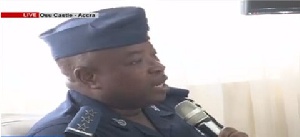 The Commander in charge of SWAT team that was deployed at Ayawaso West-Wuogon during the January 31 by-election has conceded that his men did not handle the arrested civilians professionally.
According to DSP Samuel Azugu, his men did not treat the civilians the way they were taught to.

"They did not handle them in a professional way, the way they were taught to handle such situations. When they arrested some civilians there, some conducted themselves well, some decided to run away after the arrest and my boys pounced on them, " he told the Commission probing the violence that characterized the by-election.

He also noted his men wore mask because of the nature of the operation they had to conduct.

" As SWAT, some of the men we go on the field with are used as surveillance officers who give us valuable information from areas that most of us cannot go. So when there is an operation and they know that they can be easily identified and can affect subsequent operations they wear the mask. It is not for any bad motive".

Meanwhile, the National Democratic Congress parliamentary candidate for the Ayawaso West Wuogon by-election, Delali Kwesi Brempong, has expressed interest to appear before the Justice Emile Short Commission.
He said the Commission is yet to invite him formally to testify and he will willingly oblige.

Violence erupted at the Bawaleshie Park area during the election resulting in six persons sustaining gunshot wounds. Six others have also been arrested with several others being brutalized by armed masked men reportedly from the National Security.

Speaking in an interview with Akwasi Nsiah on Ghana Kasa on Kasapa FM, Brempong disputed claims by the National Security Minister, Albert Kan Dapaah that the gunshots fired at LA Bawaleshie on that day came from his house.

"I am a pharmacist and not a gun manufacturer so how could I fire gunshots from my house?" Brempong asked.

He said the Minister was not truthful with the Commission.
"I opted out of the election due to the violence so how could I cause such atrocities and turn out to say I am opting out," the candidate remarked.

The three-member Commission of Inquiry set up by president Akufo-Addo has a month to complete its public hearings.