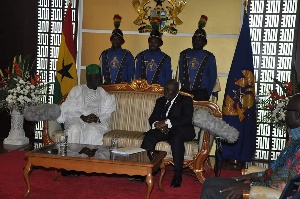 Tue, 22 Aug 2017 Source: Ajayi Oluwapelumi Tobi
The new Nigeria High Commissioner to Ghana, ambassador Femi Michael Abikoye has urged Nigerians resident in Ghana to endeavor to be law abiding residents of Ghana for a peaceful co-existence between the country nationals
Amb. Abikoye made this call at the Cocktail party held at his residence on Friday after presenting his letter of credence to President Nana Dankwa Akufo-Addo, the President of Ghana.

He noted that Nigerians who are either into business, working or schooling in Ghana need not to foment trouble but rather focus on looking for ways to prosper and to ensure that the peace they enjoy in Ghana do not go sour.

Speaking on his interaction with the President of Ghana while presenting his letter of credence, he reiterated the respect President of Ghana has for President Muhammadu Buhari as a man of integrity while reminiscing on the ties the two countries have enjoyed so far dated back to the precolonial era.

" His Excellency, President Akufo-Addo reassured me of his support to the economic prosperity of Economic Community of West African States (ECOWAS) through a smooth relations between Nigeria and Ghana as it is no news that Nigeria and Ghana plays a vital role in the economic liberation of ECOWAS we all yearn for."

Responding to the issues of undocumented Nigerians who often cause trouble in the society, he said part of his plan is to reactivate the Nigeria High Commission website: "this will make it easy for all Nigerians to register with the Nigeria High Commission and it will make it possible for the Mission to take care of their welfare and protection.

In a bid to make Nigerians know that I operate an open door policy, part of my plans is to tour the ten regions of Ghana and intimate them on the obligations of the High Commission to them as well as admonish them to continue to be an ambassador of Nigeria as they continue to enjoy the peace and prosperity of the country, he said.
Profile

Ambassador Abikoye has over 30 years experience in the Foreign Service. He was born on the 3rd of June 1959 and hails from Kwara State.

He holds B.Sc degree in Economics from University of Ilorin, Kwara State and a Post Graduate Diploma in Information Technology from University of Ghana.

He has served in various capacities in the Ministry of Foreign Affairs as Director, office of the Special Assistant to the Permanent Secretary, Supervising Director, Regions.

He served as Minister, Embassy of Nigeria, Tokyo, Japan between 2010 and 2013, First Vice Consul, Consulates General of Nigeria, Buea, Cameroon (2001-2004), Minister Counsellor, Nigeria High Commission, Accra Ghana (1998 - 2001).

He is a member, National National Award.
Source: Ajayi Oluwapelumi Tobi