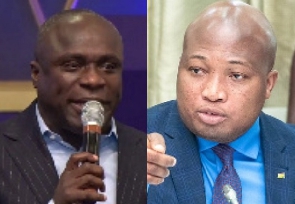 The Member of Parliament for North Tongu, Samuel Okudzeto Ablakwa, has filed a request with the Ghana Revenue Authority and the Registrar General's Department about the alleged double identity and business operations of the Secretary to the National Cathedral Board of Trustees, Reverend Kusi Boateng.
His request is made on the authority of the Right to Information Law, which empowers citizens to demand information about publicly funded institutions.

Mr Ablakwa, who recently accused Reverend Kusi Boateng of keeping a double identity and engaging in impropriety, has asked the two state institutions for information pertaining to actions being taken in light of his allegations.

"What line of action is being pursued by your department over the registered companies of an individual holding two identities simultaneously as Victor Kusi Boateng and Kwabena Adu Gyamfo with two personal Tax Identification Numbers over a period of twelve years which companies have been listed below," Mr Ablakwa stated in portions of his request addressed to the Registrar General.

"In the request addressed to the GRA, the North Tongu MP said after quoting provisions about withholding taxes from the state said "in light of the above stated provisions, what action is the Authority embarking on to address the circumstances leading to the application for and issuance of two distinct personal Identification Numbers to an individual each in different identity as Victor Kusi Boateng or Kwabena Adu Gyamfi and with which he operates in diverse capacities in the underlisted companies simultaneously over a period of twelve years?" he stated.

Background

The latest corruption exposé on the National Cathedral by the Member of Parliament for North Tongu, Samuel Okudzeto Ablakwa, suggested impropriety on the part of the secretary to the Board of Trustees of the National Cathedral of Ghana, Rev. Victor Kusi Boateng.
On January 16, 2023, the MP made some allegations against Rev. Kusi Boateng, who is the secretary to the Board of Trustees of the National Cathedral of Ghana.

In an earlier revelation about the National Cathedral, Okudzeto Ablakwa said a whopping GH¢2.6 million was dished out to a company named JNS Talent Centre Limited.

Further investigations into the alleged payment led to the discovery of one Kwabena Adu Gyamfi as a director of JNS Talent Centre.

Having confirmed the identities of two out of three directors of the centre, Ablakwa dug deeper in a bid to discover the identity of the third director, Kwabena Adu Gyamfi.

According to his findings, citing a number of statutory documents, Kwabena Adu Gyamfi was the same as Reverend Kusi Boateng, who has allegedly been operating under the pseudonym Kwabena Adu Gyamfi.

GA/BOG