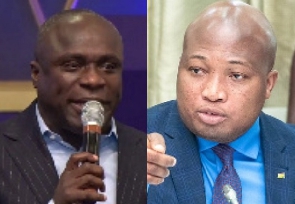 Member and secretary to the board of trustees of the National Cathedral, Rev. Victor Kusi Boateng has obtained an order restraining the publication of his personal private information on social media by North Tongu Member of Parliament, Samuel Okudzeto Ablakwa.
The suit filed in the Human Rights Division 1 of the High Court in Accra ordered that Ablakwa (1st Respondent) "is restrained from making further public disclosures of private documents, correspondence, communication and property belonging to the applicant.

The applicant according to court papers sighted by GhanaWeb was Kwabena Adu Gyamfi, alias Victor Kusi Boateng. The second respondent in the case is the Attorney General.

The 20-point suit lays out the major reasons behind the decision of the applicant to approach the court stating underlying constitutional breaches occasioned by the conduct of the lawmaker.

Point 18 raised the issue about how the publication of sensitive information about him (Kwabena Adu Gyamfi) exposes him to a number of risks including identity theft.

It read: "That given the 1st Respondent's erratic and unlawful publication of my private personal information, document and correspondence, the 1st Respondent has exposed me to the risk of identity theft and internet fraud by causing my personal information to be published worldwide."

The Member of Parliament has since January 2023 disclosed statutory documentation purporting to prove that Rev. Victor Kusi Boateng, is operating under the pseudonym Kwabena Adu Gyamfi for criminal purposes.
The MP has so far released a number of passports, drivers' license, Tax Identification Number data and details of company registration that Kusi Boateng (Adu Gyamfi) has used in the past and some he continues to use.

In the latest installment of his posts, Ablakwa said a statement by the NIA on the Ghana Card status of Kwabena Adu Gyamfi confirmed that in their records, Victor Kusi Boateng did not exist, a claim he made last week.

He has justified his publications of Kusi Boateng's documents with the view that the clergyman was using two names because he was engaging in criminal activities with one of the identities (i.e. Kwabena Adu Gyamfi.)

Ablakwa has stood by an accusation that the pastor's company (JNS Talent Center) was paid an unmerited sum from the National Cathedral kitty, even though the secretariat has explained that the GHC2.6 million paid to Rev Kusi Boateng was a loan repayment.

According to Ablakwa, the Board of Trustees never discussed acquiring a loan facility, and at the time the loan was acquired, the Cathedral had about $6 million in its bank accounts.

SARA