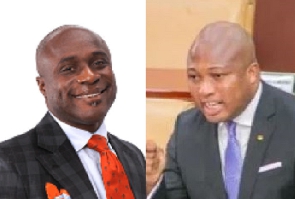 Kwabena Adu Gyamfi, alias Rev. Victor Kusi Boateng has described Member of Parliament for North Tongu, Samuel Okudzeto Ablakwa as a 'self-acclaimed crusader for the rule of law.'
The two have dominated news headlines since last month when Ablakwa started publishing documents purporting to impugn impropriety and criminality on the party of Adu Gyamfi, a secretary to the Board of Trustees of the National Cathedral project.

Kusi Boateng has since instituted three different legal processes against the lawmaker, the latest of which is a contempt of court suit after the MP rejected two earlier summons he (Adi Gyamfi) had caused to be served on him.

In his statement of case, he told the court about the respondent against whom he had brought the case.

"That the Respondent is a Member of Parliament for the North Tongu Constituency on the ticket of the National Democratic Congress and a self-acclaimed crusader for the rule of law in Ghana," the second point noted.
The courts have yet to hear the suit as well as a defamation case he has brought against the MP for false publications against his person.

The other suit is a 10-day restraining order barring Ablakwa from publishing any private documents as relates to his person.

SARA