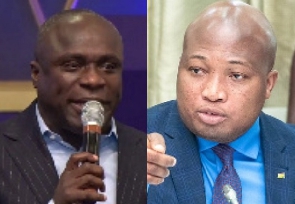 The Member of Parliament for North Tongu, Samuel Okudzeto Ablakwa, has released new images of what he says is evidence that the JNS Talent Centre received an amount of GH¢3.5million from the National Cathedral Secretariat to supply it with paper towels.
According to the MP, who has been on a recent campaign to uncover some alleged corrupt and dubious actions of the Secretary to the Board of Trustees of the National Cathedral, Rev. Victor Kusi Boateng, this new detail makes matters worse for the preacher.

Earlier, Samuel Okudzeto Ablakwa had provided documents to the effect that JNS Talent Centre, owned by a certain Kwabena Adu Gyamfi, is only an alias of Rev. Kusi Boateng.

In this latest document, the National Democratic Congress (NDC) MP said that the details show that indeed, the amount of GH¢3.5million that was received by JNS Talent was not a loan but money for the supply of some items.

This, he added, is contrary to earlier claims made to the effect that the amount given to the company was a loan from the government.

"Evidence secured of how the ubiquitous JNS Talent Centre Limited, secretly & dubiously owned by Kwabena Adu Gyamfi AKA Rev. Victor Kusi Boateng, received a staggering GHS3.5million of Ghana's COVID-19 cash to supply paper towels. This further complicates his cathedral loan claims," the MP wrote on Twitter.

It will be recalled that the Executive Director of the Cathedral project, Dr. Paul Opoku Mensah, earlier explained that an amount of GH¢2.6 million was paid to JNS Talent Centre Limited because it was an interest-free loan the company helped it secure to meet some contractual obligations in 2021.
"We had signed a contract; we were supposed to pay them (contractors) mobilization and that was part of the seed money from the state, and the state had actually transferred the money to the Minister of Finance, but the Controller (and Accountant General) had asked for some time to pay it.

"We had already kind of postponed this payment to the contractors, so a board member said he could help us top-up because he had some money, and we could just top it off to pay the contractors," he stated.

See the post by Samuel Okudzeto Ablakwa below:


Evidence secured of how the ubiquitous JNS Talent Centre Limited secretly & dubiously owned by Kwabena Adu Gyamfi AKA Rev. Victor Kusi Boateng received a staggering GHS3.5million of Ghana's COVID-19 cash to supply paper towels.

This further complicates his cathedral loan claims. pic.twitter.com/gn4qO9iues

— Sam Okudzeto Ablakwa (@S_OkudzetoAblak) January 24, 2023
AE/BOG